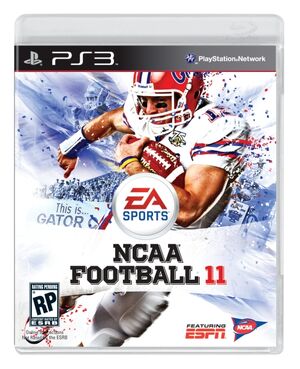 NCAA Football 11
was released July 13, 2010 for the PlayStation 3, PlayStation 2, Xbox 360, and iOS (iPhone). It was published by
EA Sports
and developed by
EA Tiburon
and
EA Canada
.
Cover Athlete
Edit
Florida Gators Quarterback Tim Tebow is the cover athlete for NCAA Football 11. Each console has its own cover of NCAA Football 11. Each cover is different from the others.
"120 ways to win"
Dynasty Wire: A web-based story generator created for Online Dynasty play.
Momentum Based Locomotion: Creates more realistic movements.
Team Specific Entrances: Each team has its own special entrance to the field.
Real assignment AI and a new blocking system.
Authentic helmet numbers for teams like Alabama.
On-field referees.
Pro-Tak gang tackling, as seen in Madden NFL 10.
Improved equipment, such as helmets, towels, hand warmers, sleeves, and knee braces.
Dynamic conference logos for TeamBuilder and custom conferences.
Single bowl season for Online Dynasty play.
ESPN style presentation and commentary featuring Brad Nessler, Kirk Herbstreit, and Erin Andrews. Lee Corso is no longer a commentator in NCAA Football.
Improved recruiting system for Online Dynasty play.
Game covers
Edit